Homeshield Coating Systems can help stop penetrating damp entering your home.
Rain Penetration
Penetrating damp can result where…
Exterior walls are porous or not effectively coated
Cracks have appeared in the external render or pebbledash
Pointing is missing between bricks, stone or blockwork
Windows or doors are poorly fitted or inadequately sealed to walls
Rainwater goods are blocked, leaking or poorly fitted
Lead flashing is not correctly fitted
Cavity wall insulation has got damp (caused by above problems)
Damage or excessive wear has occurred to felt at roof edge and rainwater has entered.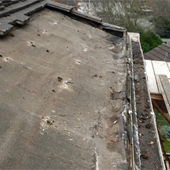 Typical treatments for penetrating damp are:
Wall repair and application of a protective coating to prevent water ingress, including crack repair and re-rendering where necessary
Application of clear water repellent coatings to bare brickwork or stone
Fitting new rainwater goods (gutters, downpipes etc.)
Fitting of an Eaves Protection system (EPS) under the front row of tiles to prevent felt perishing and water entering the cavity or upstairs rooms
Homeshield Clear Coating is ideal where the natural character of bare stone or brick needs to be maintained.
Benefits of Homeshield's Clear Coating:
Creates a colourless, breathable, highly water repellent barrier
Stops penetrating damp in stone, bare brick and cement based wall finishes
Penetrates deeply in to masonry before curing
Reduces heat loss through single-skin constructions
Improves the thermal efficiency of masonry by keeping it dry (energy saving)
Scientifically proven to provide heating energy savings of up to 29%
Will protect walls for 20-30 years
UV resistant.
Following a Homeshield visit we will pinpoint any areas of concern and explain our recommendations to remedy the problems.
For a FREE assessment
Call us today on 0800 587 4056
Or, fill in the form below and we will contact you as soon as possible.