Homeshield has vacancies in the following areas:-
Sales Inspectors
We are looking for self-motivated individuals with experience of selling Texture Coatings, although persons with a background or a good knowledge of building will be considered.
Individuals must have a car and be willing to travel around their allotted region of the UK (some overnight stays may be required) Access to a broadband linked PC is also essential as is the ability to enter and receive customer data on a daily basis (systems training will be provided). High earning potential – please call to discuss.
REF: HSC-08-001
Installation crews
Homeshield sets the highest standards in the Protective Wall Coating and Roof Coating industries and is one of only a few firms in the UK in these industries registered with the Trustmark scheme.
The company is looking for the highest quality installers who take the utmost pride in their work and who never "cut corners", in return the company will offer regular well-paid work.
Crews must have their own Graco (or similar) pump and reliable transport.
REF: HSC-08-002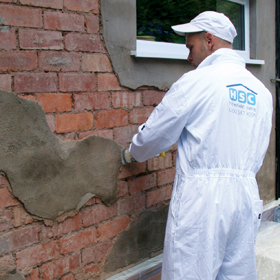 For all recruitment positions please contact us direct on
0800 587 4056
or Email: enq@homeshield.co.uk