Rising Damp is the term applied to the physical, slow upward movement of moisture from ground level (or below) through a wall. It is caused by capillary action (the same as witnessed when a piece of paper is placed vertically into water and the water soaks up the paper).
Rising Damp
Typically speaking rising damp is not observed more than 1.5 meters above ground level. Like other forms of damp it is often mis-diagnosed or confused with other damp forms a member of Homeshield's team will visit your property to analyse the obvious and not so obvious characteristics of your damp and advice on the best remedial action.
Rising damp generally occurs where there is no physical or chemical damp proof course, the damp proof course has broken down or it has been 'bridged'.
Where Homeshield diagnoses Rising Damp we will install a damp proof course using the patented Dryzone system (BBA approved)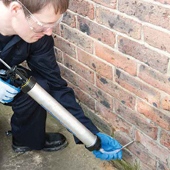 Dryzone is a special damp-proofing cream that is introduced along the mortar course at regular intervals by injecting it into pre-drilled holes. The Dryzone then diffuses before curing to form a continuous water-repellent barrier. This prevents the damp from rising up the wall. Since the 1950s, liquid chemical injection systems, which work in a similar way have been used to treat rising damp with a high degree of success.
This system is fast, clean and effective and can be used on brick or stone walls of any thickness.
Following a Homeshield visit we will pinpoint any areas of concern and explain our recommendations to remedy the problems.
For a FREE assessment
Call us today on 0800 587 4056
Or, fill in the form below and we will contact you as soon as possible.